The Internet and social media have played a part in the growth of some and unfortunately, the decline of many in retail. Digital technology and methods of multi and omni-channel retailing engage the consumer both in-store and online. In that sense the technology could provide for alevel playing field for pureplay E-commerce and brick & mortar retail. But all too often, these innovations are developed in silos, benefiting only an online or offline retailer, while the consumer has no benefit from a fragmented buying experience.
Bridging this gap between "clicks & mortals" is not an easy feat, since the pace of chance is simply breathtaking. We're bringing the web with us into shops, which are only just trying to figure out how to deal with the challenges of eCommerce. It's difficult to choose which trend to follow and which to wait out. It's particularly difficult to choose which technology to bet on and which to discard.
Summary of the LBMA Event
The objective of the evening was to provide retailers, brands and commercial real-estate professionals with a clear view of trends, Omni/Cross/Multi Channel strategies that work and success stories from the field, so they can ascertain what is relevant and right for their organisation. We have discussed such questions as:
How can I integrate my online and physical stores?
How can I design, build, deploy and manage a successful multichannel operation?
How do I apply the "voice of the customer" to my organization?
Show me some real-life cases of succesful multichannel marketing?
Which relevant location based marketing innovations should I be following?
Speakers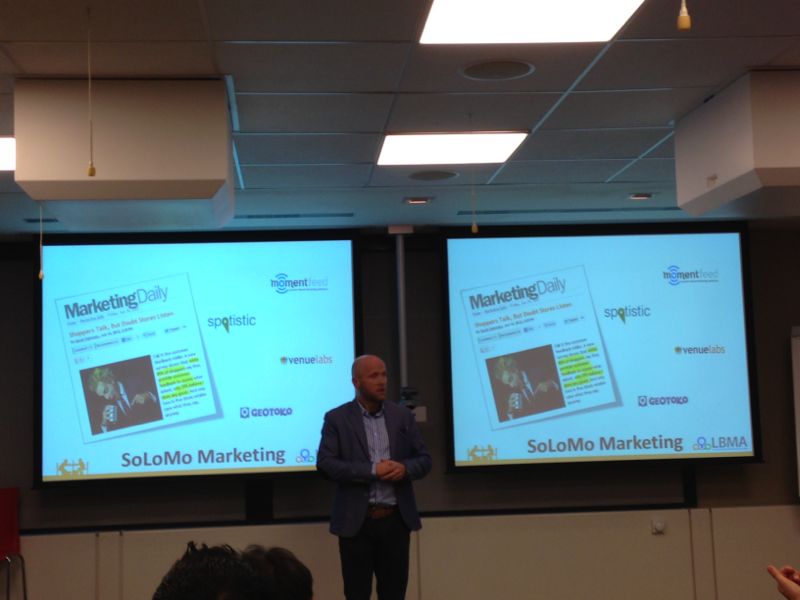 PJ Verhoef (LBMA): Right Here, Right Now
In between talks, PJ provided case studies of marketing  innovations and market developments, illustrating practical ways of integrating location in the omnichannel marketing mix. See how retailers and brands are engaging customers when- and where-ever they can offer the highest relevance.
Arjen Bonsing (ShopExperience Consultancy): The Best Webshop in the World
In a fast paced talk Arjen showed what is happening in the world of online shopping, especially around the integration of online and the physical store. Arjen focused on international retailers and the state of affairs in our own market based on the GfK Shop Experience, and he also looked forward to award winning innovations.
Jamie Brighton (Adobe): Big Data Multi-Channel Strategies, Improving Conversions
The bigger our data gets, are we doing more for our customers, more efficiently? How can data enable us to understand and predict customer behaviour, leading us to make the rights decisions, both long term and in real time frontline environments? In this session, Jamie covered several case studies with on- and offline data integration, attribution modelling and conversion optimization.
Mike Hoogveld (RedFoxBlue): Cross Channel Excellence
As a PhD student Mike Hoogveld performed scientific research on success factors in multichannel management. In 2012 he wrote the bestseller 'Cross Channel Excellence "which was nominated for the PIM Marketing Literature prize and Management Book of the Year award. In this talk he gave a snapshot of a practical 8-step plan to optimally respond to the rapidly changing orientation, purchase and usage behavior of customers and prospects as a result of the rapid growth of (digital) channels.