Why do I get a coupon in a local magazine for a shop nearby, while the brand I buy at this shop is pushing a mobile ad with a discount to a webshop? Why does this billboard tempt me to travel to Turkey for  a weekend, without giving me the option to book (or at least bookmark) the trip online?
I don't want this color, I don't want to stand in line for the cash register and I want an instant comparison between 5 products in this category. Why can't I order this product directly from their webshop, with my smartphone? Oh wait, let's just scan the barcode and buy on Amazon.
Smartphones & tablets will present both the diversity and comfort of webshops, as well as an augmented shopping experience at local retail. It's been our belief (and company mission) that there should be a level playing field for pureplay ecommerce and bricks & mortar retail. All too often, digital marketing & commerce innovations are developed in silos, benefiting only an online or offline retailer, while the consumer has no need or benefit from a fragmented buying experience to answer questions like the above.
Bridging this gap for retail and brands is not an easy feat, since the pace of change is simply breathtaking. We're rapidly bringing the web with us into the streets and into shops, which are only just trying to figure out how to deal with the challenges of eCommerce. It's difficult to choose which trend to follow and which to wait out. It's particularly difficult to choose which technology to bet on and which to discard. The rumored move of Google into same-day delivery services is a great example of how ambiguous the benefits of new technology can seem for retailers.
The idea behind the new delivery service is that people searching for products online or on their phones could buy something from a local retailer or the local branches of nationwide chains, and could then take the next step –delivery– through Google. Over the past years, it has enhanced its product search and introduced new (mobile and online) ad formats for retailers. It now shows sites that carry an item and compares prices and shipping fees, and connects with stores' inventory feeds to show where the item is in stock nearby. The new service would be an extension of that.
"Same-day delivery through Google could help physical retailers compete with e-commerce companies, by offering the convenience of shopping without leaving home. At the same time, online retailers offering same-day delivery could make life even harder for physical retailers, because letting people own something the same day has become physical retailers' biggest remaining advantage."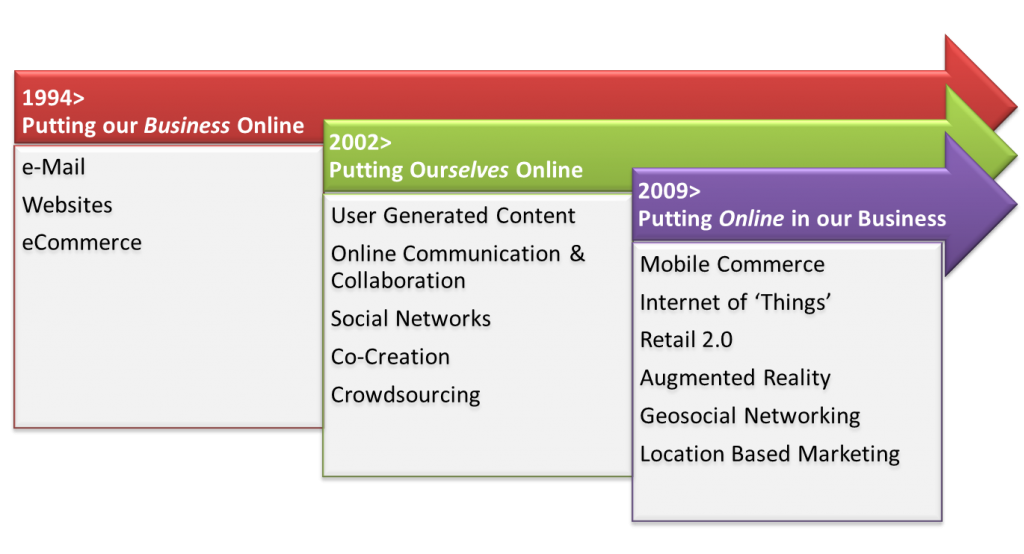 The online and offline worlds are merging and commerce is one of the first realms to see the result. Health, government and education are trailing closely. With the smartphone, we're connecting our human experience and preference, augmented by advanced sensors, to the wealth of online information and social sharing. According to some knowledgeable sources, there's a freaky, contextual and automatic world coming. As the phone (or the cloud that it connects to) learns our daily rhythms, travel patterns, product preferences, health status and whatever next personal need we'll be using apps for, we can use this for delivering on a big promise.
The end game is a world where -through advanced marketing technology-, production and sales can be tailored so closely to consumers requirements, that we eliminate most of the waste caused by imperfect information.
Waste in creation of dispensable products and services. Waste in overproduction and stock. Waste in logistics & distribution. And yes, waste in marketing, selling and servicing those unwanted products.