"It is time to lure people off the couch with marketing to the action in the street!" This may have been what the makers of the Fashion Run thought while working on their idea. With this app (available on iOS and Android smartphones), players are challenged to find, 'catch' and 'hold' virtual fashion items. After a player has picked up the price, other players in a radius of 50 meters can 'steel' the item. The player holding the item when the contest ends, may keep the prize.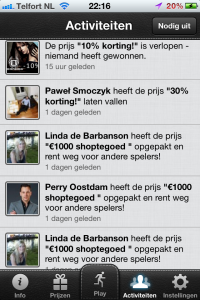 If you think you've heard this before, you're right. The idea of putting game dynamics of the old HAM radio game in a marketing campaign, isn't new. BMW did it first with the Mini "GetAway" campaign and New Balance and Nike did smaller campaigns in selected cities. In Europe you can use some platforms to leave virtual promotions (finders keepers) at a physical location, but this lacks the element of the chase. This new platform is the first time that this kind of location based marketing campaigns is made accessible to smaller advertisers.
Retailers and (fashion) brands can deploy these apps to spread promotions to their target audience in a more fun and engaging way than the mobile coupon. Certainly retailers should be interested in getting people to move outside and into their stores! And if the price is big enough to mobilize a large group of 'players' publicity is also guaranteed. Especially when players hunt race after one another in their cars, requiring police intervention to restore order, as recently happened in Poland.