Sometimes you come across a fun location based marketing campaign. Sometimes you see great execution. Rarely you see both. Peeze manages to pull it off with this multi-layered and creative use of QR and location.
When you pick up your first cup of coffee made from beans from this coffee-roasting factory you're treated to this QR code in this great looking dish.
Take the walkthrough below or open your phone browser to m.peeze.nl/qr
Start: pick up your cop of coffee and look at your dish
Step 1: scan the code and get treated to visuals referencing the fair trade farmers that made your coffee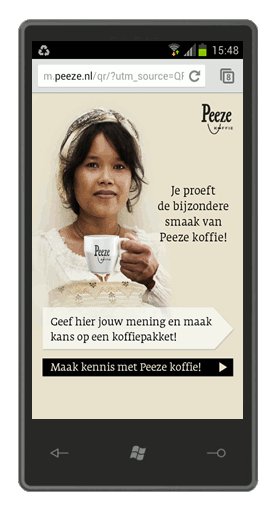 Step 2:  provide a simple score to the taste of the coffee in order to participate in the sweepstake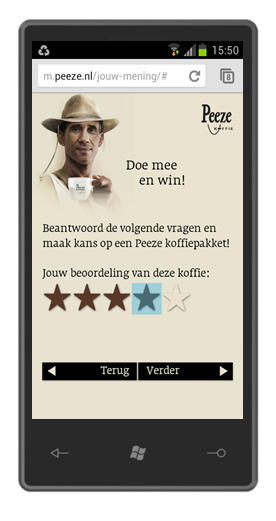 Step 3: now that you're hooked, you may as well provide Peeze with a little more information and perhaps an opt-in to their newsletter 🙂
Step 4: off course, they will need your email for the prize, but could you also let them know where you drank this coffee? The list is pre-populated with Peeze merchants in the vicinity if you allow your lcoation to be shared.
Step 5: Here's the confirmation and (off course) some ways to share the sweepstake and get some more (mobile optimized) Peeze company pages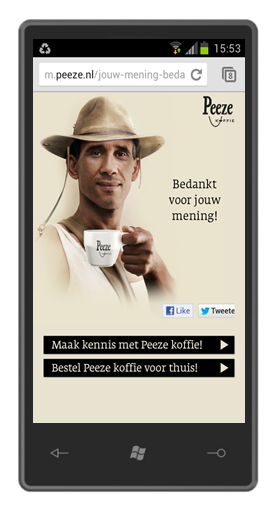 Postscript: don't think you can game this campaign either, at least not if you don't want to change your phones ID every time you play..
More examples of great QR campaigns on the QR Wall of Fame! Or if you want to avoid some of the most frequently made mistakes, check out the QR Wall of Shame.