Having looked at Google+ over the weekend, it seems there's enough in there to make a few social media tech firms scratch their heads. Where most people mention Twitter, Facebook and even Skype, I want to zoom in on the location based networking aspect of Google+ I think this will by far be the most disruptive to the scene.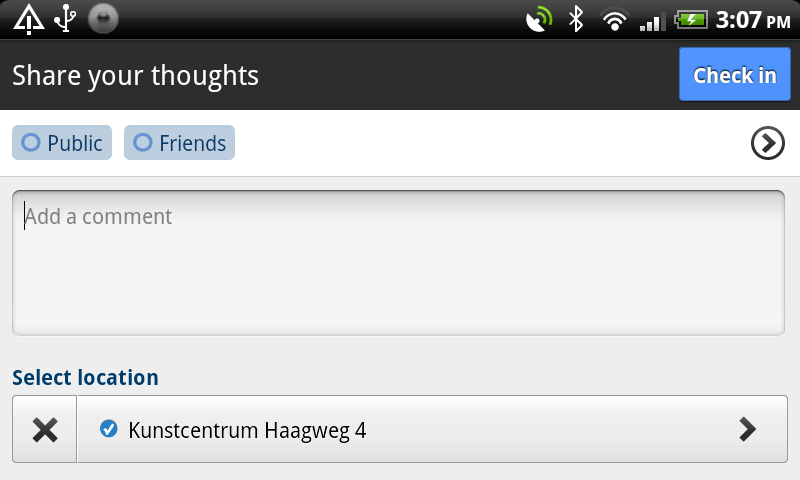 My prediction is that this will cannibalize the separate Latitude and Places apps for Android (an iOS version is in the works). After all, Google has not been making it a secret that they want to converge their location efforts. I also bet my lunch that
soon the early majority of the early adopters of social media gadgetry start downloading the app or using G+ online
a sufficiently large portion of the 10 million+ Latitude users start checking in with G+
the millions of users for the Android Places app start reviewing and commenting on places in G+
The early uptake will be sufficiently large to disrupt the location based networking space. Here's my Top-5 of what engineers at Foursquare and Facebook places should be looking at the coming months.
5. Use a curated database of places
Location has to be easy in order to be used. If you're standing in front of a bar and you can't find it your favorite app within the 3 seconds it takes your phone to locate you, your flow is interrupted an you lose the sense of convenience. Sometimes people forget, there's actually companies that sell curated business listings and geographic points of interest (POI) that apps need to suggest your location. Google has sourced and/or curated most of their 50 million places, Facebook has started to, (but is apparently still messy) and Foursquare still thinks it can crowdsource it.
4. Get the merchants on board
Sure, you can 'claim' your place on Foursquare and Facebook, but you've already done that on Google, right? The added benefit on being found on Google Maps makes that your first stop. After all, it's the mapping and search product almost any mobile phone app uses and has at least 200 million separate app installs. So why should I claim it again and send in another post card somewhere? Right now the reason merchants would want to do it is purely defensive: people might leave negative comments, tweets or tips about their location in any virtual spot they don't control. How much better is it to have a positive motivation to use place as another slicing mechanism in an online marketing dashboard that's already linked to the worlds largest online advertising platform? Unless Facebook and Foursquare have some great announcements around small to medium sized businesses, especially in retail and hospitality, they may start losing ground to Google.
3. Create a fun way to manage privacy
According to Google VP Products Bradley Horowitz on This Week in Google, Circles are the foundation of everything G+ is about. And that's not just to help people organize their social spheres through a fun and addictive interface. Privacy concerns are at the heart of all vendors' problems to scale their social and location sharing tools and circles are a way to make privacy settings much more granular. Google is not in this game to beat Foursquare on the number of check-ins or even to beat Facebook on the number of users; they are in it for the signals. Those little pointers that tell them who you are, what you like, where you do what and with whom. It's those signals they sell to advertisers and content empires that want to target you more precisely. People are concerned around who can access their location data, stiffling adoption in some countries. There are also legal frameworks around applying the data for other purposes that companies need to adhere to.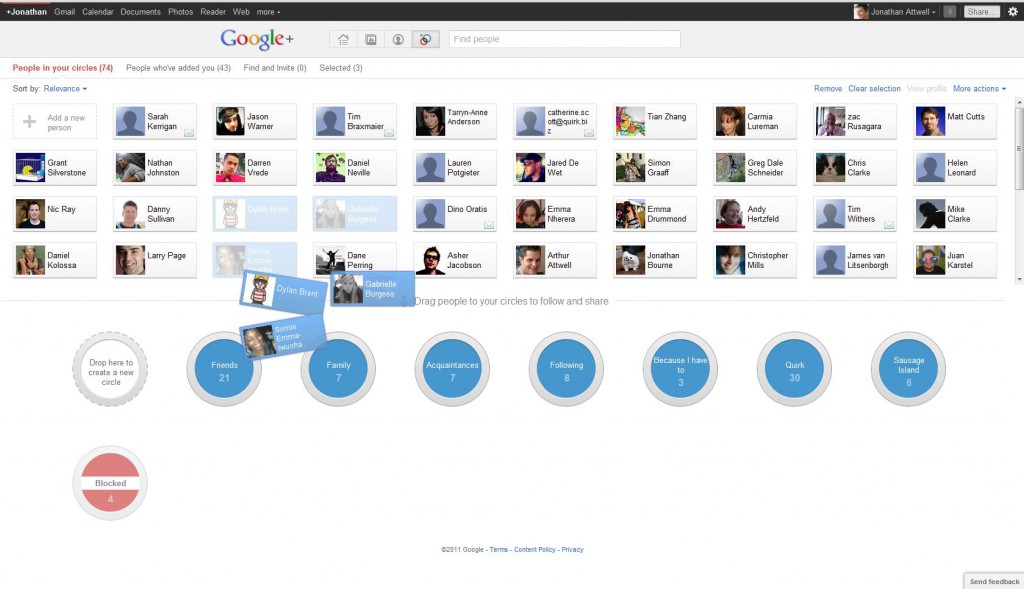 2. Integrate location beautifully
It's a matter of opinion, but personally I've not seen location integrated as well as G+ is doing. Whether it is through the selection of which public streams you get to see first (those nearby), or the core integration of privacy for check-ins, or the photo location tagging: location is an integral part of all the forms of sharing that the app offers. Neither Foursquare (which has location as entry point for all sharing) nor Facebook (which check-in has an awkwardly removed feel from it's central 'wall' experience) has mastered this so far. Moreover, the mere -potential- of integrating location even further into huddles, sparks and (soon, I expect) other commercial- and game-dynamics is tantalizing.
1. Be radically open
The biggest plus of the new Google attempt into social however, is it's choice to be radically open in design. First, from the point of view of data liberation, which IMNSHO is a huge deal. I want control over the data I am supplying to the fitness-, location-, sharing- or any other app I'm using in your daily life. Second, the API to G+ will be soon available, allowing users to invite their friends on other platforms and other apps to use the G+ data. If you're like me, you don't use Twitter and Facebook, you connect Twitter to Facebook for micro-blogging. You don't use Foursquare and Facebook places, you publish your check-in to your wall. The list goes on. Simply put: no platform is capable of perfectly catering to all people's needs, nor will one platform seduce all users to use it exclusively. There will be more than one social graph we want to be part of (and keep seperate).
Before the current hype around G+ translates into millions of users, I think the major location networking players should take a pause and evaluate their strategy and technology on these points. In the end, people will choose to share their lives and locations more broadly and openly in a neat, beautiful and multiple-connected garden than in a messy, huge but multi-functional prison. And advertisers will go where they can reach people best, which is where they can use most pointers to target individuals.
In the battle for location based advertising dollars, G+ has just made a great first impression. What 's your take on this, do @dens and @finkd need to play a bit of catch-up, or are they so far ahead that G+ can't really hurt 'em anymore?