In the world of software sales, many companies are capitalizing the knowledge needed to select the right license from a very complex set of possible configurations. Although this expertise will still be required in the future, cloud computing and related pricing models should reduce the complexity for end customers, if software vendors allow it to.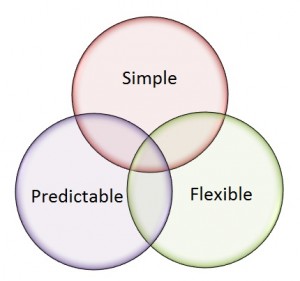 In order for a software vendor to pick the right pricing model for its product, it needs to balance three conflicting demands. The model needs to be simple enough to explain to customers (forget about your mom, she's not the use case here). It also needs to be flexible enough to adapt to various business models (in a b2b setting) and functional use cases (in a b2c setting). Finally, it also needs to be predictable in the sense that it prices the expected benefit as well as remains consistent over time. On top of this, licensing and pricing groups within large software vendors are always under pressure to come up with the perfect between shareholder and customer value. Without exception this complexity results in lengthy legaleze documents, describing product use rights.
In comes the cloud
Most progressive enterprises today are moving away from device-centric computing to a user-centric application delivery through application virtualization and cloud computing solutions. Licensing has become a key factor in project cost modeling for these technical implementations. A clear understanding of the available pricing options, and how and where to apply them, are critical. However, while the different options in concurrent, per-user and subscription models are only the ingredients to a software dish served in the cloud, the menu has already been written. Heaven forbid, people may already be taking orders.
At the same time, legacy pricing models that are device- or hardware-centric, are still creating more of a barrier to cloud innovation. Pricing per server or processor(core) is becoming increasingly unrealistic for hosted virtual environments that are run like utilities. For most, its hard to document where in their virtualized and hardware-partitioned servers one private cloud ends and another one starts. It's complexity like that, as well as the subsequent unclarity on compliance, that keeps some companies from even disclosing their exact architecture blueprints to their software vendors; let alone share thoughts on how to innovate in them.
Something has to give
One can walk 20 meters on a Microsoft conference from one booth to another and find that the cloud teams are offering the same product or functionality as the on-premise teams for vastly simpler pricing. Public cloud pricing revolves more around simple resource usage (e.g. storage, data transfer) and subscription models, where for on-premise you're still stuck with reading their 138 page PUR. To make upgrading more flexible (but certainly not more simple or predictable), for some products a customer can actually switch between the two models a few times within the duration of their contract. The administrative nightmare that would occur if a company would actually be so inclined, is hard to overestimate. And you have to keep in mind that Microsoft, together with SAP, are actually considered best in class when it's about creating workable licensing structures for virtualized (cloud-) environments.
Obviously, these models cannot simply co-exist and be treated as interchangeable. There is too much market history and international jurisprudence in licensing policies which links directly to specific customer- and broader market requirements. New models will be invented to deal with new ways of using software, which will not be allowed to cannibalize in a big way the profits that are still being made with existing contracts. The big question is "how long will vendors will allow for transition states between the two models"?
Silver lining
It is exactly this time that large license consultancies such as PC-Ware and Insight have to consider their strategic options for the future. Will they choose horizontal integration through a merger with or acquisition of a systems integrator? Or will they segment into carefully selected niches of licensing expertise? Either way the incoming cloud forces an issue here. What do you think?