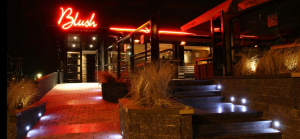 Trying to get people inside wasn't really the challenge of the Blush lounge in the  trendy beach town of Noordwijk, Holland. Capturing over 17% of the local foursquare check-ins, the business wasn't having a problem attracting  the right demographic either. However, maintaining a fresh, attractive and innovative branding in an increasingly competitive environment however, was a concern permanently on the mind of management.
Concept 🙂
When made aware of the relative attraction of the establishment to the tech-savvy, smartphone-toting visitors, the owners wanted to use this position to run a location based marketing campaign. We gave them the idea to use a little game mechanic in the campaign, using rewards to change visitor behavior. The goal was to a) create a buzz-worthy little sweepstake that re-confirmed Blush' status of  'sexiest place in town' and b) get people in a little earlier on the Friday evening, spreading visitors more evenly across the evening. The play was on the famous appointment dynamic, promising a free personal Happy Hour for the first few visitors logging in directly after 21:00 o'clock on a friday night.
We teamed up with Geotoko again and literally created the storyboard, call-to-action and game mechanics for the entire campaign with management over a cup of coffee. Off course the real effort was to be sharp around the competition time frames.
Results 🙁
The pick-up among regular as well as new customers was great, but Blush management unfortunately forgot to involve their staff in the campaign. Where many people checked-in to unlock the badge (and were eligible to receive the prize), staff was unavailable to reach out to the winners and follow-up.  So although the campaign provided evidence that foursquare is a viable platform for customer engagement, it did not reach the intended effect due to poor quality of execution. Blush is currently considering new game dynamics to liven up their mobile marketing schemes and has learned (the hard way) to involve staff from the first steps.